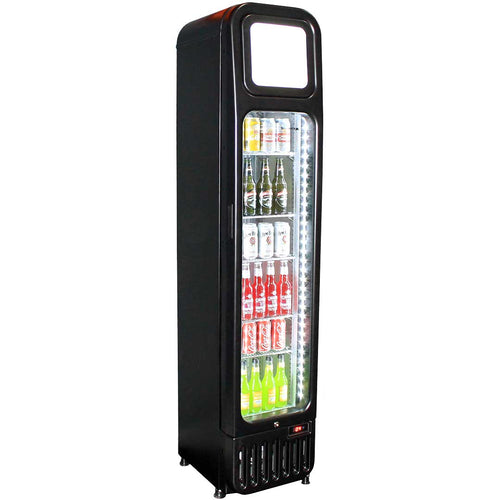 BR125
Door doesn't seem to close properly.
With the door, sometimes it can 'drop' slightly, when this happens it will catch on the bottom panel. This is easy to adjust by either re doing the hinge screws tight or checking the actual black grill panel to move it down slightly.
If you need assistance please email us below for a call back
I have water/fog forming on the outside of the glass door?
ANSWER
In 55-60% humidity or more you will start to form fog and then water on outside of glass door, this is normal is glass door fridge operation. A lot depends on the tyoe of glass, if you have special LOW E glass it helps prevent up to about 75% and heated glass gets you to 100%.
Is Inner Fan Noisy?
ANSWER
The inner fan may have developed faulty bearings and if this happens the noise will be very loud, like a plane landing in your loungeroom. You need to replace the fan.
Another reason is the fan blade itself may have 'moved' on its axis or is slightly out of position, it maybe touching the fan bracket, so slightly moving the fan or bracket to different position can be an easy fix. If you are looking at this while unit is runnig remember to be careful as the connections to the do contain 240V.
Unit cools but just not enough?
ANSWER
If one of the fans has failed (inner and underneath) then the unit will just not quite get to temp, usually will sit about 8-12oC. So check both fans.


*Check your condenser under unit to make sure it hasn't blocked up with dust and particles. This is the part is a big black wire cage, and it's important to be clean.
*Is door sealing properly? A gap in sealing can cause unit to ice up on rear wall and stop air flow, causing it to not quite cool
Unit has stopped cooling completely
ANSWER
If unit has stopped cooling completely, meaning fridge only sits at 'room temperature' then you need to check these main things.
1. Inner fan still going?
2. Bottom fan and compressor still going?


Does this sound like your issue?
If so, enter your contact details and short message and we will get in touch with you.